Keeping your schedule straight as you go through your day, and look to the weeks ahead, is a proverbial snap with the Week Agenda Ultimate app. Elegantly designed, this agenda app gives you a nice overview of the current week with pages to turn to upcoming, or preceding weeks. It has a classic day-planner feel.
Highlights:
* Stylish week view
* Browse through weeks easy
* Week numbers
* Like a personal organizer
* Multiple calendar support
* Retina support
* Multitasking on iPad in iOS 9 or later
* Multi language: over 22 languages and your own region notation

Easy Navigation:
* Swipe left or right to turn the pages
* Fast browsing with 2 fingers for a month and 3 fingers for a year.
* Tap on the day title ('monday') for a day calendar view.
* Long press on a day for a new event
* Tap on an event for edit
* Tap on top of the page for a menu bar. From there you can select your calendars, return to the current day and access a help popup.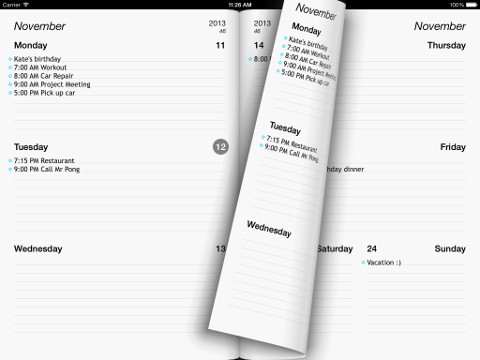 <![endif]>